←
→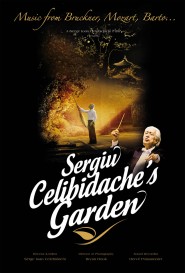 Sergiu Celibidache's Garden
An intimate portrait of the world famous and revered classical conductor and composer Sergiu Celibidache.
This ambitious cinema docu-drama follows the maestro through rehearsal with the Munich Philharmoniker and on tour. The film crew's main objective was to recreate Celibidache's universe on the widescreen and although he usually avoided publicity, he made himself extremely available for the film.
Indeed we were able to shoot over one hundred hours of Super 16mm film and record more than two hundred hours of digital stereo sound. The ambition of "Sergiu Celibidache's Garden" had a simple but intimidating objective: to re-establish and celebrate the old love affair between cinema and classical music by presenting to the public a man that was simple as he was brilliant.
From the beginning "Sergiu Celibidache's Garden" was planned in film terms by using simple and sophisticated shots, depending on the circumstances. We have a story: the story of a man who revolutionised the world of classical music.
A film on a man and his passion, a film on music and its extremes, a film on something that burns inside each one of us: "the spark of eternity".
Significant dates:
24th November 1996 – World premiere at the Louvre Auditorium in Paris
24th December 1996 (Christmas Eve) – Romanian premiere at Ceaucescu Palace in front of 4,500 people
Romanian Literary Prize – Cella Della Vranch, 1996
Special Jury Prize, 1997 Amsterdam festival
Released in German cinemas during summer 1997 – Still being shown in some German cinemas today
Released in French cinemas during winter 1997 – The film ran for over 12 months in some French cinemas
Released in Austrian and Swiss cinemas in spring 1998
Released in Japanese cinemas in spring 1998 – Periodically reshown on special occasions in Tokyo and Nagoya

"This film shall delight enthusiasts all the more since Celibidache always refused to have his music recorded."

"From rehearsals to his conducting classes, concerts to fascinating confessions in his magnificent garden, Sergiu Celibidache examines and reveals several keys to this ………………… musical phenomenology."

"The coherence of his approach to music – the purpose of the gestures, determining the timing and revealing the apprentices' personalities is so enthralling that the two ………………… and a half hours seamlessly fly by."

"With him, music is a lesson of life, the search for harmony and the quest for wisdom."

"A great musical pleasure, and indeed visual."

"Celibidache rouses the music within us. How can you not keep faith in the purity of the human soul when a man was able to reveal within us, through his music, such …………………. precious and elusive feelings?"

"Thrilling, touching, moving; such are the charisma and humanity of the musician emanating from the screen. The fascinating approach to this precious film is akin to a …………………. mystery… the light of a musical mystery."

"If orchestra conducting were nothing other than a well-kept garden, then Celibidache's was "immense and fertile".
A film by
Serge Ioan Celebidachi
Director of photography
Bryan Hook
Sound Engineer
Hervé Poissonnier
Editor
Serge Ioan Celebidachi
Assistant Editors
Katell Le Scao
Stéphane Lorin
Adrien Adriaco
Camera and Steadicam
Bryan Hook
Assistant Cameraman
Stéphane Muller
U.L.M. Pilot
Serge Laforme
Material Printed on
Eastman Kodak
Motion Picture System
Represented by
Franziska Heller
Laboratory Processing
ARRI
Sound Transfer Laboratory
Copra
Negative Cutter
Mrs. Albrecht
Color Timer
Boris Link
Filmed with Aaton Cameras, thanks to
Ice Film Equipment
Recorded with Foxtex PD-2, thanks to
SynchroTech
Digital Track-laying
Hervé Poissonnier
Sound mix in Dolby Digital in
Babelsberg Studios
Dubbing Mixer
Manfred Arbter
Poster Design
Olivier Pillard
Graphic Design
Leroy Moore
James Agnew
DVD Authoring
Luke Louca
Titles designed by
IBF
Produced and Directed by
Serge Ioan Celebidachi
Special thanks to
The Munich Philharmonic Orchestra, La Scola Cantorum, the whole team at
ARRI, especially Walter Brus, Patricia Fladda, Sepp Reidinger and Boris Link
Dr. Claudia Braun at Eastman Kodak, Gaby Wragge at Babelsberg Studios
Roger Patel at SynchroTech, Konrad von Abel, Marianne, Michel Denis
Bertrand Brouder, Nini, Patrick and all the students, Wolfy Hammerschmidt
James Olivier, Roberta, Yvonne Dietz, Olivier Rakotoniaina
Gonsar Rinpoche and the Tibetans
and my father
This film is dedicated to my mother
© CELI FILMS LTD 2010