←
→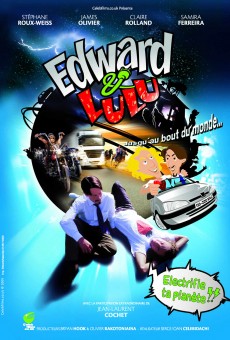 Edward & Lulu
Two half-brothers are thrust back together after twelve years apart in order to fulfill their mother's last wishes. The inheritance will be theirs if they travel together from North to South of France in an electric car provided for the trip.
The voyage triggers a re-discovery of each other and of their true selves, redefining the boundaries of tolerance, acceptance, forgiveness and love.
CAST
Edward
James Olivier
Lulu
Stéphane Roux-Weiss
The Prostitute
Claire Rolland
The Hitch-Hiker
Samira Ferreira
The Chief Biker
Hubert Peschoux
The Chief Gipsy
Charles Graves
Hairy Dan
Thierry Giro
The Mechanic
Yannig Samot
The Hotel Waitress
Angélique Graves
The Antique Dealer
Jacques Enrich
The Assistant
Xavier Turcan
The Secretary
Catherine Turcan
The Café Owner
Robert Gonzalez
The Farmer
Jean-Louis Mouche
The Dying Gipsy
Vincent Oller
The Waiter
Jérôme Auffret
The Countrywoman
Isabelle Bérenguer
The Daughter
Florence Hubert
The Cops
Alain Hubert
Didier Caballe
and a Special Appearance by Jean-Laurent Cochet
as The Attorney at Law.
Gipsies' Extras

Thierry Alié, Jacky Baumela,, Marie-Louise Ferrer, Laurence Font, Pierre Jimenez,
Jean-François Oller, Laurent Oller, Vincent Oller, Guy Ropars,
Joseph San, Monique Sylvia Torres and Claude Olive.
Bikers' Extras
Jacques Arque, Claudine Bazan, Michel Beltran, Catherine Boutillon, Marc Boutillon,
Georges Calla, Serge Chauchot, Francis Chiroleu, Fabrice Delpech, Nanou D'Orazio,
Jean-François Février, Jacky Galaup, Réné Grandfils, Erik Hortala, Maurice Lahaulle,
Michel Lahaulle, Michel Lajarrige, Thierry Léal, Patrick Leroux, Nathalie Pagès,
Michel Parayre, Vanessa Parayre, Laurence Quintane, Xavier Ribes, Odin Roi and Didier Viret.
Extras at Restaurant and Bar
Christian Dauvillaine, Bernard Llanta, Anaïs Muré, Laëtitia Muré,
Jonathan Hureqt, Radhia Hachemi, Catherine Peytavi, Julien Giro, Maïté Giro,
Christophe Merico and Marie-Thérèse Auffret.
Director
Serge Celebidachi
Producer
Bryan Hook
Associate Producer
Olivier Rakoto
Screenwriter
Celi James
Script Consultant
Charles Barrett
Director of Photography
Erik Wilson
Costume Designer
Cécile Maille
Art Director
Marie Amiel
Editor
Serge Celebidachi
Original Music Composer
Wolfgang Hammerschmid
Production Manager
Stéphane Muller
Camera Operators
Bryan Hook
Erik Wilson
Sound Recordists
Hervé Poissonnier
Jean-Alexis Auffret
Clément Escaffre
Make-up Artist
Corinne Bossu
Continuity Girl
Maya Pissaro
Additional Scenes
Charles Barrett
Stéphane Roux-Weiss
First Assistant Director
Gregory Franchini
Second Assistant Directors
Marwan El-Ahdab
Delphine Réau
Focus Puller
Joan lluro Soler
Clappers/ Loaders
Richard Hewetson
Baptiste Merlin
Key Grip
Federico Lopez
Gaffer
Robin Todd
Boom Swinger
Baptiste Merlin
Location Manager
Charles Graves
Production Assistants
Pascale Guerri
Laurent Guerri
Jonathan Hubert
Sophie Biard
Animation & SFX
Bryan Hook
Sound Editor
Erik Wilson
Sound Assistant
Baptiste Merlin
ADR Supervisor
Peter Hodges (amps)
Foley Artists
Gaelen Greene
Andrea King
Dubbing Mixer
Peter Hodges (amps)
Titles
Stéphane Wamin
Still Photographer
Thibaut Chapotot
Making-of Camera Operator
Baptiste Merlin
Webmaster
Delphine Mérieux
The Producers wish to thank:
The Borough of: 
Perpignan, Ille sur Têt, Opoul, Lapalme, Saint-Estève.
The "Tropic Hotel", EDF Perpignan, Saint-Vicens,
"Le Châtelet" Hotel, The Bar "la Licorne", The Garage "MLP",
The Garage "Sedo", "Classic Scooter", "Miko", "Liptonic",
"Sobraques" Establishments, The "Sigean" Reserve,
The "Bergerie" Restaurant, "La Provençale" Quarries, Chanel,
"Tisserand" Transports , The Bar "le Typhon", "The Bishop  of Perpignan,
"The Lastours" Domain, "The Martinez" Establishment, Mark Winter, "The Shuttle",
CVS UK Ltd, "Norasis", "The Ménard-Garnier" Printer House,
The "Peugeot" Dealers ("Chesneau " and "Balançon-Malidor")
and The "Garage du Faubourg".
And the following Persons:
Prof. Delsol, Maurice Lomes, M. Mannier, Emmanuelle Lebourg, M. Bauby,
M. Müller, Doctor Guérin, M.Ramio, Bernard Llatia, Karine Serra,
Carlos Nucera, Howard Thompson, Peter Skinner, Alexandre Koubbachian,
Yvonne Dietz, Sophie and Quentin Biard, Bernard Galula, Fazal Shah, Steve Good
Patrice Melennec, David Morley Hale, Greville Socket, Richard Pritchard,
Jonn Savannah, Timothy Perrott, Rebecca Jensen, Maria Ruben, Tara Woodhouse,
Anthony O'Leary, Darren Stuart and Dominic Bon de Sousa Pernes.
Insurance Services supplied by
AON/ Allen G Ruben
Shipping by
SAM FREIGHT LTD (UK)
Edited on AVID supplied by
OCULUS LTD (UK)
Camera Accessories supplied by
ICE FILM LTD (UK)
Grip Equipment supplied by
PANAVISION UK
Lighting Equipment supplied by
LEE LIGHTING UK
Film Mixed at
MOSAIC FILMS LTD
Filmed with
AATON CAMERAS
Shot on
KODAK COLOR FILM
Neg Cutter
TRU-CUT
Telecinema DI
UPP
35mm Inter Neg
UPP
Processing by
METROCOLOR
EX MACHINA
"MAH NA MAH NA"
Words and music by Piero Umiliano
Published by CARLIN MUSIC
"A Little Bit of Luck"
Composed and Performed by Pete McDonald
Produced by Celi Films Limited
Publishing Rights Pete McDonald and CFL
"Driving To Memphis with Edward & Lulu"
Composed and Performed by Pete McDonald
Produced by Celi Films Limited
Publishing Rights Pete McDonald and CFL
"Skiddly Boo"
Composed and Performed by Pete McDonald
Produced by Celi Films Limited
Publishing Rights Pete McDonald and CFL
"Troisième symphonie en fa majeur"
by Johannes Brahms
Conducted by Sergiu Celibidache
with the Special Permission of DGG
"Hotdoggin'"
Composed by Dick Racey
Produced by Extreme Music
"Yo no Puedo Vivir sin Ti"
Composed by Jérôme Chabo, Pascal Valtes and César Singing
Produced by Guy Bertrand/ Niglo des Chants
"Parlez Bolleaux"
Composed by Hubert Deuringer
Produced by Extreme Music
"Where Do I Go from Here"
Composed and Performed by Pete Mc Donald
Produced by Martin Andrew Smith
Publishing Rights Pete McDonald and CFL
"Edward & Lulu"
Composed by Wolfgang Hammerschmid
Performed by James Olivier & Stéphane Roux-Weiss
Produced by Celi Films Limited
Publishing Rights CFL
The Characters and Events depicted in this Film are fictious. Any Similarity to actual Persons, living or dead is purely coincidental.
This film is dedicated to Erma "Fontella" Toney.

Copyright © CELI FILMS LTD 2004